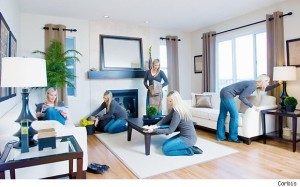 Everyone has a different style of housekeeping, and everyone's style is strongly connected to their personal housekeeping philosophy. Some people believe that cleaning is an every day task that they should not fall behind on, while others view cleaning as an actual chore and spread out their cleaning sessions more liberally. Neither way is right or wrong, so long as the home stays sanitary and functional. Below are descriptions of three basic housekeeping philosophies:
The Constant Cleaner. The first type of cleaner is the constant cleaner, who is perpetually cleaning. This type of person often cleans as much out of enjoyment as out of responsibility. They have immaculately clean homes and they pride themselves on their good housekeeping. This person's cleaning philosophy is to clean anytime something is unclean and needs attention. Cleaning is a very high priority for them and there is little that can prevent them from immediately cleaning something that does not meet their standards of cleanliness.
The Regular Cleaner. The average person is a regular cleaner. This is considered to be the most balanced philosophy of cleaning. This housekeeping style enables a person to keep their home clean but to not be absorbed in cleaning. If cleaning is a genuine passion and hobby for a person, then doing it regularly is not unhealthy behavior, but if a person has other interests they need a considerable amount of time for, knowing when to forego cleaning can be very important.
The Sporadic Cleaner. The opposite of the constant cleaner, the sporadic cleaner is one who does not enjoy cleaning or has an overfull schedule that barely permits it. More often than not, the sporadic cleaner only does the bare minimum in cleaning, and detail cleans only out of absolute necessity. The sporadic cleaner's living environment usually remains sanitary, though the constant cleaner might disagree. Their level of cleanliness is socially acceptable, but undoubtedly at the lesser end of the spectrum.