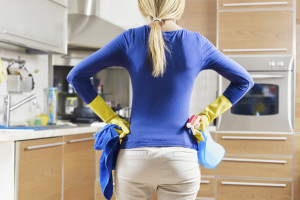 A person's housekeeping habits can say a lot about them, and every person's housekeeping habits are as individual as they are. It is not common for people to naturally have perfect housekeeping habits. Most people have some strong housekeeping tendencies and some that they have completely neglected. It is important to your mental health and maturity to become aware of which housekeeping habits you are lacking in and improve them. This will strengthen your personal character and the appeal of your home.
In order to be objective about your housekeeping abilities and figure out what you need to improve on, take a critical look at your living space and determine what your strengths and weaknesses are. Are you a person who tends to tidy up but who puts off detail cleaning? Or are you meticulous about cleaning dirt and grime but unorganized about where belongings go? Perhaps your cleaning trends are not black and white but somewhat random, for example, you enjoy doing dishes but hate doing laundry. Write down the areas you need to improve on and make a plan to better your housekeeping habits.
Altering the way you keep your house is not cut and dried. Our housekeeping habits are often deeply ingrained within us and not easily uprooted. Some people need some outside perspective in order to effectively change their housekeeping habits. There are a number of services available that can assist you in strengthening your housekeeping skills. You can get cleaning ideas and solutions from local cleaning services who will come to your home. There are home organization experts for hire who can teach you excellent home organization methods. And if your poor housekeeping is simply attributed to bad time management, a life coach or counselor can help you become the level of organized you are striving for. Take the first step in learning to meet your housekeeping goals today!