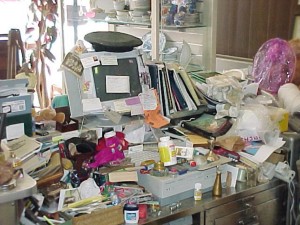 Nothing will wreck your peace of mind and the organization of your home faster than clutter. Clutter is the excessive build up of unnecessary items. In your home, clutter may look like knick-knacks, garbage and items that belong in a garage sale, large and small. Many people do not realize that clutter has a detrimental effect on a person's mental space as well as their physical space. Clutter makes you feel out of control, lost in your own home and chaotic. The best thing you can do for your home in order to create organization and control is to get rid of clutter and junk that you do not need.
There are several ways you can reduce the amount of clutter and junk you have in your home. If you like do-it-yourself projects, you can set aside time to decide once and for all what items you are keeping and which you are getting rid of to suit the space you occupy. If you would prefer help, there are professional home organization services and junk removal services available throughout North America. Home organization services will go through your house one room at a time to help you determine what items should be kept, what items should be discarded and how to organize the items you are keeping. A junk removal service will come to your home to pick up the large items you no longer need.
In the United States and in Canada, there are many professional organizations you can turn to for help in bringing your clutter under control. In the United States, home organization companies are all the rage in urban areas. In Canada, Montreal, Vancouver and Okanagan junk removal services are offered to the many people who are rethinking how full they want their homes to be. If you are tired of constantly being overwhelmed by clutter, do not let it get the best of you. Get in touch with a professional home organizer or a junk removal service that can free up the space in your house.